Behind the Scenes of My Brand Photoshoot
Aug 08, 2023
Finally, you've scheduled that team photoshoot, headshot session, or website shoot. The date is on the calendar, and your favorite outfits are set aside. Now what? It's go-time!
If you're like me, the thought of being in front of the camera puts a tiny pit in my stomach. (Does anyone really love pictures of themselves?) Like speaking to live audiences or really anything, it all gets easier with time. By now, I've all but perfected my photoshoot routine.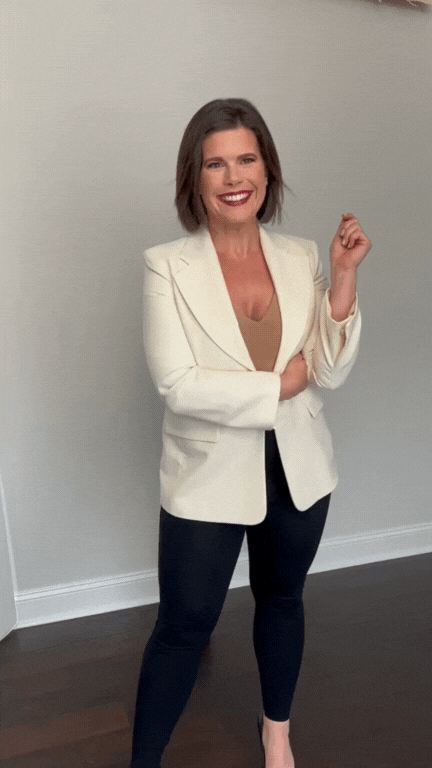 Behind the scenes of my latest headshot session.
"Past me" would have loved a little glimpse into the future to ease my nerves. And while I don't have a time travel machine for you, I can offer a behind-the-scenes look at my typical brand photoshoot day. Perhaps, you can use it as a template for your own shoot.
Several Days Before the Shoot
Pre-Photoshoot Call: When I work with Stacey Gardin, a fantastic Greenville-based photographer, we always schedule one final call before our shoot to finalize outfits and shots. Typically, I'll pull together more outfits than I need and use this call to edit the list down with Stacey. We usually aim for a mix of colors, styles, and seasons. The call also serves as a chance to finalize the shot list. By now, I've synced internally with my team to identify our specific photo needs.
My welcome to Stacey's studio. Thoughtful planning goes a long way!
Hydrate:

I always avoid alcohol for at least a few days before my shoot. Alcohol really does nothing for your energy or appearance. Instead, I like to drink a little extra water to stay and look my most hydrated. Good rest helps a ton too.
Photoshoot Day
Eat breakfast:

Just like on speaking days, I stick to something tried and true on photoshoot mornings. Ideally, I'll reach for something that will keep me full and energized without feeling bloated. Don't underestimate how much being behind the camera can wear you out! It sounds silly, but it really is exhausting to be the center of attention for a whole photo shoot.

Hair: On the morning of the shoot, I wash, dry, and straighten my own hair. I'll bring a can of hairspray to the studio to zhuzh it up before the camera starts snapping. Depending on your preferences and budget, you might consider hiring a professional to style your hair. My advice would be to choose someone you know and trust if you do go that route. The last thing you need on a shoot day is a hairdo gone bad.
Stacey Gardin adjusting my hair before we start shooting.
Makeup

: I've learned that being behind the camera is a lot like being on stage. You need more makeup than you think you do to highlight your features well. You want your photos to look great whether they're tiny squares in your email signature or full-width images on your website. My normal makeup routine falls flat on camera, so I typically hire a professional to fix me up onsite.
During the Shoot
Make time for snacks and water: For my most recent sessions with Stacey, we stayed at her studio the entire time. If you have a nice office, like my friend Kristin Burke, that can also be a great backdrop—or one of several locations—for your shoot. Since we weren't moving around, Stacey created a nourishment station in the studio so that I could grab a quick snack or drink between shots. Ask your photographer if he or she does the same and if not, be sure you have a plan for staying energized.
Stacey Gardin working her magic and a cameo from the snack station.
Consider changing up your look:

Throughout the shoot, budget in time to swap out not only your clothes but also other elements of your look. Unless you want the exact same jewelry, hairstyle, makeup, and even nails for every shot, it's a good idea to change up your look. For one recent photo session, I realized I kept the same lipstick in every shot. Now, I wish I had the foresight to add some variety. Next time, I'll bring a few more options!
The key to any stellar event is great planning. The same is true of a photo session. Plus, a great photographer goes a long way toward making a photoshoot seamless and even fun. I feel really lucky to have worked with amazing professionals who make the whole process a lot more enjoyable. And, I've been really happy with the results. I use them all the time! You've probably seen my brand photoshoot images across my social channels, my website, and, of course, my LinkedIn. The investments I've made in professional photography have definitely been worth it to me.
Speaking of LinkedIn, is it time to refresh your profile? Sharp new photos are a great reason to revamp your LinkedIn presence. If the idea of that stresses you out, I've got you! My free guide, Rock Your LinkedIn Profile, will give you the steps you need to put your best foot forward. Follow my steps to mirror your stellar offline reputation online in your LinkedIn profile.