Sharing the Spotlight: When & How to Talk About Your Team on LinkedIn
Feb 07, 2023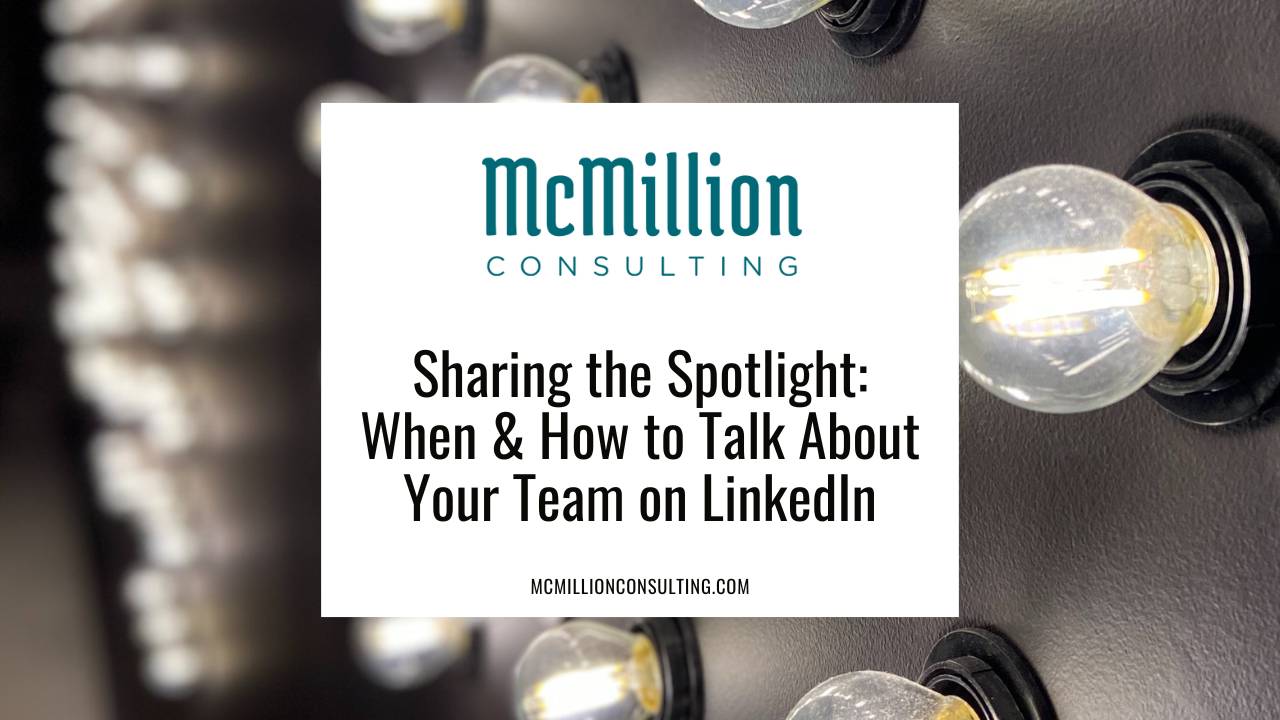 On your LinkedIn profile, you should always be the star of the show. Your profile is not the same as your company page, where a broader, team-centered approach should be the norm. Anyone visiting your page wants to know about you first and foremost. Still, there are a few narrow times when sharing the spotlight with your team—makes good business sense. Let's look at when that might be the case.
When To Share the Spotlight
Although there are always exceptions to the rule, I recommend highlighting your team on your LinkedIn profile in three primary situations:
1. When your team works directly with your clients
Your LinkedIn profile should be an authentic introduction to who you are and what it's like to work with you. If working with you naturally includes working with your team, consider highlighting your team in your LinkedIn profile. For example, clients of many financial firms, agencies, or consultancies will more than likely interact with a team, rather than just one individual. In these cases, showcasing your team can give prospects a better sense of what to expect from an engagement.
2. When someone other than you is the point person for new business
You should also highlight your team in situations where you've fully delegated part of your process. If prospective clients reach out using the phone number or email address in your profile but get a reply from someone else on your team, that can be confusing. There's nothing wrong with outsourcing communication to someone else, but it's important to be transparent about who's helping you behind the scenes if your clients or prospects will interact with that person directly. This way, you're building trust from the first introduction.
3. When showcasing your culture and people is important to your hiring efforts
If you are using LinkedIn as a hiring tool, it may also be appropriate to showcase your team in your profile. You might consider mentioning your team broadly if you want to highlight your company culture. Alternatively, it can also be valuable to speak to specific people or titles on your team if they impact a key hire. For example, if you've just hired a Director of Products and are actively seeking candidates to fill the product team, you could spend a bit of time highlighting that leader or the vision of that team.
How to Incorporate Your Team Appropriately on LinkedIn
There's not necessarily a wrong way to incorporate your team on LinkedIn, as long as you remain the main character of your own LinkedIn profile. Here are a few places I typically recommend to showcase your team.
Written Descriptions
One way to include your team on your LinkedIn profile is simply to include a few sentences in your Summary (the About section) or current role description sections. The great thing about your profile is that it's dynamic, meaning nothing you write is set in stone. As your team, processes, or priorities change, you can always go back and update those portions of your profile.
Featured Photos & Rich Media
Just as imagery helps your network build trust in you, team photos can create a sense of helpful familiarity among your clients and prospects. Even if you don't actually put a name to every face pictured in your team photo, your group of smiling faces can make a positive, warm impression. There are several places to feature team photos. In order of most to least prominent, consider incorporating them: within your background image, in your Featured section, or as rich media in your role description. The best choice for you just depends on how much visibility you want to give your team.
Posts
In some cases, you might want to temporarily share the spotlight with a timely update. For example, if you just added a new team member and want your network to know, feature him or her in a post. Company page posts that you share from your personal profile are also a great way to accomplish the same thing.
Success doesn't happen alone. We all need great teams to bring out the best in us, so don't be afraid to give them a little love in your LinkedIn profile. If spotlighting your team serves to create a greater sense of authenticity within your network, it's the right move. Your humility and transparency will actually make you stand out more than making your LinkedIn presence artificially all about you.