5 Business Reasons to Showcase Your People on LinkedIn
May 16, 2023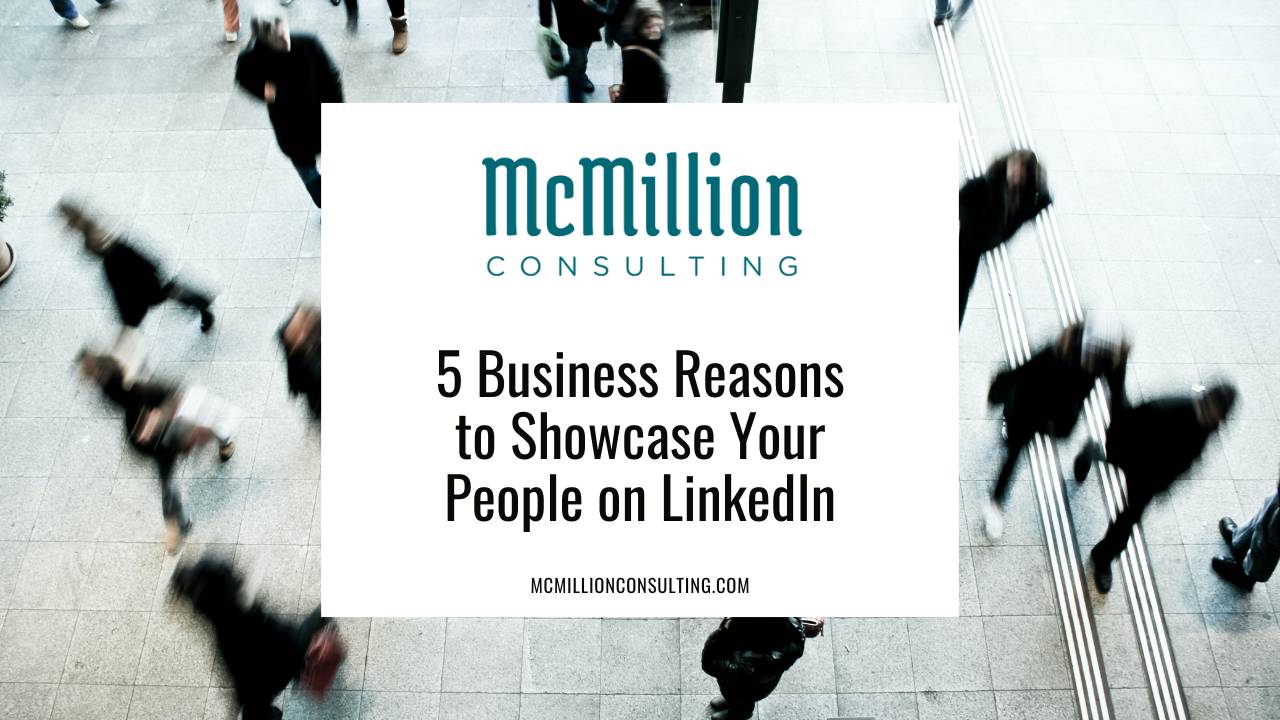 As I've said before, you should be the star of the show when it comes to your personal LinkedIn profile, but there's a time and place to talk about your team, too. The same is true for your company page and engagement. While it's important to communicate what your business does and why, your people also deserve some time in the spotlight too.
I've recently had a couple of clients engage me specifically to help them showcase their teams on LinkedIn. I'm all about that! I love it when the companies I serve share my perspective that their talent is central to who they are. Highlighting your team is more than a great way to fill your content calendar; it has real business benefits, too. Here are my top five reasons to showcase your people on LinkedIn.
1. To promote a positive work environment
Celebrating your team on LinkedIn communicates to your employees that you see their hard work and appreciate their contributions. Positivity breeds positivity. Over time and in conjunction with other efforts (like fair pay and benefits, for example), your public displays of affirmation can contribute to an uplifting work culture.
2. To improve retention
Often, employers realize too late that they could have done more to retain their best employees. By the time they realize their employees didn't feel supported, they've already left. According to a 2022 Workhuman-Gallup poll, employees who experienced a level of recognition that matched their expectations were three times more loyal to their companies and 56 percent less likely to look for other jobs. The simple act of recognizing employees on LinkedIn is a great way to combat turnover and improve retention.
3. To create familiarity among clients and prospects
Team spotlights are a great social selling tool in that they can promote genuine connections with sales prospects on LinkedIn. Highlighting your people gives your clients and prospects a peek into what they can expect when they work with you. It's a great way to humanize your staff and let people put a smiling face to a name.
4. To unify a remote team

Showcasing your team on LinkedIn has practical benefits for your team—especially for remote teams that don't get a lot of face time. If you're not bumping into your coworkers in the break room, you might not know you share a love of the Premier League or that you both have elementary-school-aged kids. Employee spotlights can help create a sense of comradery and spark conversation and closeness among remote teams.
5. To support recruiting efforts
Showcasing your talent not only communicates to prospective employees that you value your people, but it also allows them to imagine themselves in your company. Seeing others who inspire them or remind them of themselves might be just the nudge top candidates need to apply for a position. Remember that you can talk about your open role or your company culture all day long, but nothing is more powerful than a first-person testimonial from your team.
Next time you're stuck deciding what to post on your LinkedIn company page, consider showcasing your people. More than a feel-good content idea, recognizing talent has important business implications. To get more eyeballs on your content, always encourage your employees to share company posts on their personal pages. When it comes to team posts, you probably won't have a hard time convincing people to brag about their teammates by sharing the spotlights.
Accomplishing your business goals on LinkedIn is often as simple as taking a creative approach with the free tools at your disposal. For some professionals, however, a premium version of LinkedIn provides additional tools that are worth the upgrade. To learn whether or not a premium LinkedIn subscription makes sense for you, check out my free Should You Pay for LinkedIn guide. In it, I break down all the paid LinkedIn options so you can compare easily and land on the best one for your needs.